Frequently asked questions
BBQ Grills
How to Light the Back Burner on BBQ Grill
---
1. Make sure your gas supply is turned on 2. Push and hold the back Burner knob (RED KNOB) for 10 secounds. 3. Then turn the Knob until you hear it click 4. Repeat until back burner lights. WHAT IF IT CONTINUES? 5. Check spark at the back burner area (two metal prongs at the back burner area) 6. Make sure they spark when turning the knob. 7. They need to have a spark 8. Carfully move the two prongs closer togather and follow steps starting at step 5
---
How to Install & Light My Sear Burner
---
See Video Instuctions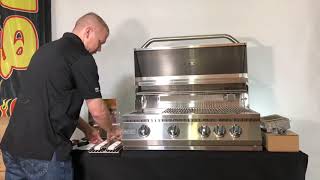 ---
Main Ignitors Do Not Work On My Grill
---
1. Make sure all Valves are turned off 2. Discounect LP tank or turn off the Natural Gas Valve 3. Reconnect your LP tank or turn on your Natural Gas Valve How to test your Ignitors to see if they are working 4. Use a (Log Lighter) to Manually Start your Grill to see if you can get it lit. 5. If it lights using a lighter the Ignitor is bad and will need to be replaced. 6. Check each Ignitor / Control Knob to see how many need to be replaced. 7. See attached Video on how to replace Valves YOUR BURNERS STILL DO NOT WORK? 8. You are not getting gas to the grill 9. Call Licensed Plumber Do you need new Valve/Ignitor? See replacment parts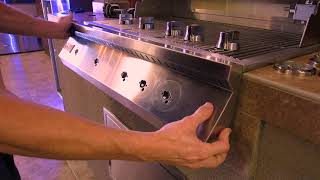 ---
How to Convert Grill Gas types LP or NG
---
Convert your gas grill. See Video Instructions See Parts you will need replacment parts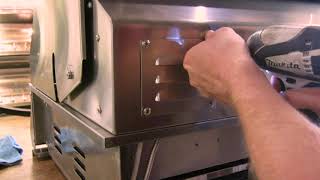 ---
How to Connect Side Burner & Grill to Natural Gas
---
Contact a licence Plumber or a professional qualified Craftsman to run any gas lines and hook up. CAUTION: USE YELLOW TEFLON TAPE ON ALL CONNECTIONS! USE SOAP WATER ON CONNECTONS TO TEST LINES FOR LEAKS AFTER. IF YOU SEE BUBBLES YOU HAVE A LEAK! 1. Use 1 3/8 Stainlees Steel Flare Fitting Gas Lines to hook up to Side Burner 2. Use another 3/8 Stainless Steel Flare Fittiing Gas Line to hook up to Grill. 3. Use a 3 way 3/8" Flare fitting and connect one hose from side burner and the other from grill. 5. Connect 1 more 3/8" Stainless steel Flex lines to the last side on the 3 way and connect to your gas supply. 6. CHECK ALL YOUR WORK WITH SOAP WATER. 7. SPRAY ALL CONNECTING JOINTS THEN TURN ON GAS GRILL AND SIDE BURNER AND MAKE SURE THEY ARE LIT. 8. LOOK FOR BUBBLES IN YOUR LINES. IF YOU SEE BUBBLES YOU HAVE A GAS LEAK. IF YOU DONT SEE ANY YOU ARE SAFE.
---
How to Clean Briquettes / How to clean Grill
---
1. Turn over all Briquettes over burner so the greasy side faces down. 2. Turn Grill on High Baking it off, then turn off the grill and let cool. 3. Wash Briquettes with Dawn soap water and scratch pad 4. Rinse and let briquettes dry before next use. Note: See Replacments parts to replace with new HOW TO CLEAN GRILL 5. Dawn Soap water and wipe down grill and all parts. 6. Let dry and use. See Product Care Guide
---
Burners Will Not Light
---
1. Turn off Grill and any gas supply. LP Tank must be turned off and removed from regulator. 2.Connect the gas supply back in to the LP tank or turn on Nat Gas (This will reset the saftey device in the regulator) 3. Turn on all burners on high for 10 Secounds. Then turn back off. (this primes gas to the burners to make sure the supply reaches) 4. Turn on again and the grill will fire up. (you are ready to grill) IF THE GRILL STILL WILL NOT START OR FIRE UP.
you will manually start it with a Log lighter to test See instructions. 5. Follow steps 1 and 2 6. Follow step 3 and use Log Lighter on burner to see if it lights up. 7. If it lights up you will need to see the Ignighter/Valve trouble shooting on the FAQ 8. If it still does not light. you do not have gas comming to the grill. You will need to contact a Licenced Gas Plumber to diagnose why you dont have gas comming to the grill.
---
Do you hook up the gas lines
---
We do hook up Liquid Propane (LP) Gas Lines with a LP Regulator that will hook up to a small gas tank supplied by the customer. If you have Natural Gas you will need to contact a Local Licenced Plumber to set this up.
---
Fire Comming out of Control Panel and Knobs
---
Burners need to be Cleaned and Valves need to be replaced. Somthing is diturbing the gas flow. When burners are clogged or wind pushes the flame back into the control pannel you will get Back Flash and this will melt down the bushings in your control valves and create a small leak. You will need to check and replace. See Replacment Parts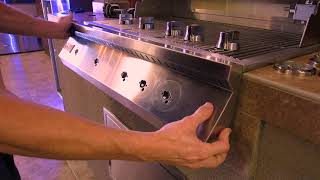 How to Video
---
How to Care for My Grill
---
See Product Care Guide
---
---
BBQ Islands
How much do BBQ Islands Weigh
---
We use a guidline as they will very due to matials, Typically BBQ Islands Weigh about 80 LBS per Linear foot. Example: a 8' BBQ Island x 80 Lbs = 640 Lbs
---
Planning my Delivery to the Backyard
---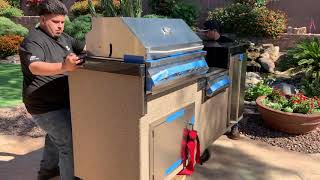 ---
What are the BBQ Islands Made With
---
---
Planning Electrical and Plumbing (UTL) to BBQ Island
---
Contact a licensed contractor to bring all UTL to BBQ Island Steps 1. Be sure to use the Line Drawing Footprint to show a estimated placement for UTL 2. Bring all UTL to BBQ Island as needed. Power, Water, Drains 3. Be sure to have everything finished by your licensed contractor, in some cases they will need to work on UTL before delivery and after to finish all hook ups. NOTE: All conncetions must be finished by your licensed contractor 4. Our BBQ Islands are prewired with a 3 proing cord and can plug into receptaclel box if customer/contractor provided one. 5. Water will need to be hooked up top all sinks by contractor. 6. Drains will need to be hooked up by contractor.
---
How to Care For My BBQ Island
---
---
---
About Us
Are we a Licensed Contractor
---
No, We are not. We are a National Manufacturer building and shipping our poroducts nationwide. In order to fall into a contractor catagory we would have to build and construct on site since we manufacture and ship to your location there is no need for a contractor to deliver these products.
---
Where Do We Install
---
We Ship Nationwide! We Offer White Glove Delivery to include delivery to backyard and set up of the BBQ Island to the following Locations * Sounthern California * Arizona * Nevada All Other States We will ship. We also Offer White Glove delivery for Nationwide using the shipping company for additional upgrade price
---
---
Firepits
Do Firepits Drain when it Rains
---
Yes, Our firepits do have drains.
---
---
Warranty
How to Care for my Products
---
---
---